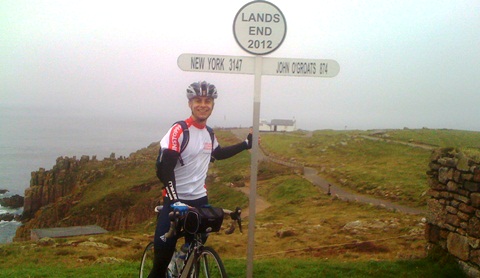 A former Brine Leas student from Nantwich is gearing up to take part in a 500-mile cycle ride for charity.
Lee Comerford is set to clock up the miles on a cycling challenge from Lands End in Cornwall to Windermere in the Lake District.
Lee is saddling up to raise cash for the blood cancer charity Leukaemia and Lymphoma Research.
The 28-year-old, who also studied at South Cheshire College, set off yesterday (September 4) with his brothers Ryan and Daniel Comerford and other riders Simon Cox and Mark Maguire for different stints of the journey.
He will pass through Launceston, Bristol and Nantwich on his way from Lands End to Windermere.
Lee, who now lives in California, decided to take on the cycle challenge because an old school friend died from Leukaemia.
He said: "I go out training every weekend and it's really hard work but it's nothing compared to what sufferers of this terrible disease go through.
"I hope people support the cycle ride and the money raised will help Leukaemia and Lymphoma Research invest in the best UK research to beat blood cancer."
Leukaemia and Lymphoma Research is the only UK charity dedicated to research into blood cancers including leukaemia, lymphoma and myeloma.
Around 30,000 people are diagnosed with a blood cancer in the UK every year.
Dan Solley, head of Sports Events at Leukaemia and Lymphoma Research, said: "It is great that Lee, Daniel, Ryan, Simon and Mark are taking part in the 500 mile ride and are raising money for Leukaemia and Lymphoma Research.
"Every penny raised will be invested in our leading research which is making a real difference to the lives of patients with blood cancers including leukaemia, lymphoma and myeloma."
To donate or find out more about the mission visit www.justgiving.com/Lee-Comerford