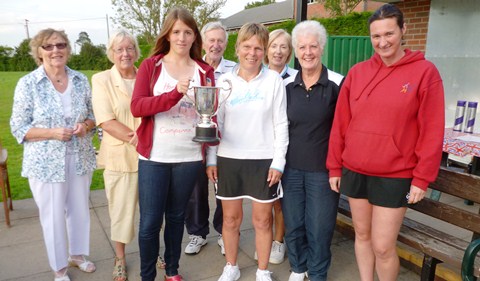 By Jonathan White
A Nantwich ladies tennis team is celebrating after winning the league title – for the 20th year in a row!
Nantwich Tennis Club Ladies 'A' team have landed the South and Mid Cheshire Division 1 cup for the 29th time in all.
Captain Sue Winters received the 2012 Slazenger South and Mid Cheshire Tennis League trophy from league secretary John White.
It took place at the League Presentation Afternoon at Nantwich Tennis Club.
The team's incredible run began way back in 1972 when Nantwich Ladies won Division 1 for the first time.
Then from 1978 to 1986, they won the title every year and dominated the league.
They were so good that in 1987 officials agreed they could play in the Mens league, being promoted from Division 6 to Division 3.
In 1993 they returned to the Ladies league, and have won the Ladies Division 1 title every year from 1993 to 2012.
This year they again won the League's Ladies Knockout competition, which they first won in 1980.
Nantwich Tennis Club is located at Windy Arbour, off the Alvaston Roundabout, on Middlewich Road.