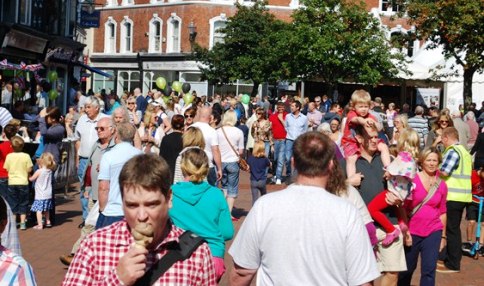 Organisers of the Nantwich Food and Drink Festival have been stunned at the success of this weekend's event.
More than 30,000 visitors have flocked to Nantwich and the weekend is set to generate more than £2 million for the town.
Traders reaped the benefits of streets thronged with visitors from all over the country, with many doubling their takings at a time when things generally quieten down for tourism.
Helped by the warm, dry weather, the numbers far exceeded those hoped for by organisers of the not-for-profit organisation Nantwich Food and Drink Festival Ltd.
New organisers moved the event from Mill Island to the town centre and axed the entrance fee after taking it over from the council three years ago.
Chairman Deborah Robb said: "The turn-out was stunning. It went beyond our wildest dreams and was worth every bit of the hard work we have put in as volunteers over the last few months.
"We were blessed with crisp sunshine most of the weekend and on Saturday you could barely move through town. Streets were heaving with visitors enjoying a real party atmosphere.
"It was definitely our most successful festival. In fact hundreds of people just stopped our volunteers to say how much they were enjoying themselves. We couldn't have asked for anymore."
Main festival venues included a Gourmet Food Hall and Food Court offering alfresco dining on the Bowling Green car-park, a new Food Theatre on the town square, children's activity centre behind the White Horse pub and Nantwich Civic Hall, renamed the Mornflake Food Hall for the weekend.
All attracted huge crowds who enjoyed samples of fine food and drink from around the world.
Shops across town did their bit staging tastings and fun food-themed activities. They demonstrated making their pies, biscuits, pizzas and cakes while non-food shops offered special festival discounts on clothes and household goods.
Deborah, who leads a team of festival directors, added: "Last year the festival generated some £2 million in income for the town.
"Judging by the turn-out and response, we are confident that will be exceeded.
"Clearly, it gave a great boost to takings and proved phenomenally successful in promoting Nantwich. But it also did something very important in raising spirits.
"With all the excitement of the summer and the Olympics now a distant memory, it generated a real buzz. The feel good factor was back."