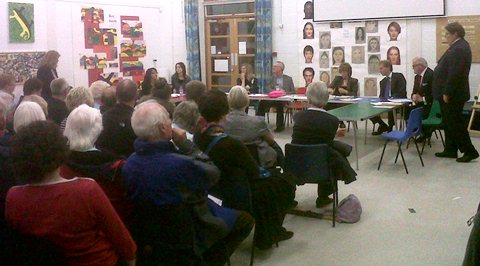 A council leader told a packed Nantwich meeting he would fight "unsustainable" housing developments threatening the town.
Leader of Cheshire East Cllr Michael Jones addressed around 100 people in Stapeley.
They attended a public meeting at Pear Tree Primary School to air their fears over Muller Property's 1,100-homes plan for "Nantwich South".
"This is not something I think is good for the people of Stapeley," he said.
"I don't support Stapeley having any further development until they put in better road networks and infrastructure."
He also criticised Muller for "poor dialogue" over the plan which the company is expected to submit to Cheshire East Council in the next couple of weeks.
"We're not very happy with that dialogue, but that's their choice. But I can tell you, Cheshire East is against any unsustainable developments in Nantwich."
Cllr Jones also accused housing developers targeting Cheshire East of "land-banking" so houses could be built and sold when the market picks up in later years.
"Make no mistake, this is about profit and money, and it's not right," he added.
"We will look at this application forensically if and when it is submitted, and in particular any traffic plan they put forward.
"They will have to come up with some pretty strong reasons to put more traffic on these roads."
Many residents spoke of their anger over the plans, and called on reassurances from Cheshire East to prevent the development.
Pat Cullen, who runs the Protect Stapeley campaign group, said: "If and when that application is made all of us and more need to write our objections."
Resident Adele West added: "Trucks are already mounting pavements, crashing into hedges and nearly hitting children going to school down Broad Lane.
"Building another 1,000 homes would just increase congestion. There's going to be a serious incident down there."
Others questioned what is "sustainable" and queried why any plans to build on "green fields" could be considered.
"We don't want to put more traffic on the streets of Nantwich," added Cllr Jones.
"Sustainable does not mean injuring babies in prams, and trucks crashing into headges and running off the road.
"However, we will not prejudice the process. We will do a thorough analysis of any application that comes in and councillors will vote on it."
A representative for MP Edward Timpson told the meeting he was against the plans.
What do you think? Share your views here.