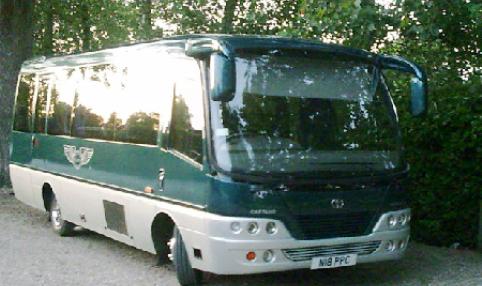 A bus ferrying youngsters to a Nantwich primary school was hit by a car outside the school gates today.
Youngsters were getting off the bus parked outside Stapeley Broad Lane School when it was hit from behind.
It's the latest in a series of incidents which have left parents clamouring for a car park to improve road safety.
No children were injured in the incident, which was confirmed by headteacher Ian Shackleton and bus company boss Joe O'Leary.
Parents are urging planners to approve a proposed new car park at the school which they believe will prevent similar accidents.
Mr O'Leary, of Crewe-based Prestige People Carriers, said: "It was an unfortunate incident, it's a very busy road.
"The bus was parked in the bus stop and pupils were getting off at the time.
"We've been doing that school run for 15 years, and the traffic conditions have been getting worse, without doubt.
"This has happened before but never while children were still on board."
Mr Shackleton said: "We had a phone call from the driver to say there had been an accident this morning.
"Thankfully none of the children were hurt and don't appear to be aware there was an incident."
One mum who saw the incident said: "I'm just so pleased a child wasn't hit. This just illustrates the problems with traffic outside the school."
Mr O'Leary said Cheshire East Council's decision to cut back on school transport funding has increased the problem.
"Tempers do flare along that stretch, people heading in and out of work at peak time, and there has been an increased amount of traffic.
"The council cuts has reduced the number of school buses, so more children are having to be taken by car."
Plans a for a new car park include a space for school buses to pull in off the busy A529 Audlem Road.
Previous proposals submitted by the Diocese on behalf of the school have been rejected after concerns were raised by highways officers.