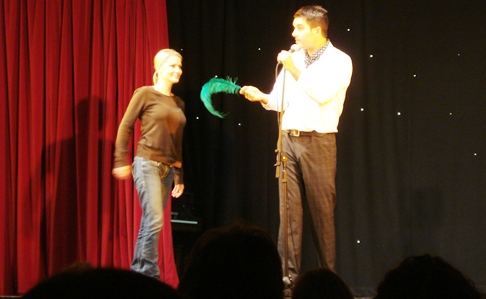 As comedy nights go at Nantwich Civic Hall, this one had a bit of everything.
Guitar juggling, Tourettes dancing, Irish jigging… oh, and an audience member taking her top off!
It's not clear what possessed the attractive, shapely young lady (pictured) to perform a mini-strip on stage?
Perhaps it's the way she rolls…
For the audience, it was a bizarre ending to a night of pure hilarity as three acts, bolstered by compere Danny McLoughlin, provided another brilliant night of entertainment.
A quiet start by McLoughlin belied what lay ahead… and the night took off sharply when first act Steve Royle breezed onto the stage.
His fabulous blend of movement, trickery, observational comedy and downright silliness went down a treat.
Royle's ping-pong ball juggle and Spanish guitar sketch towards the end will live long in the memory.
It was a difficult act to follow, but Michael Fabbri's very different set was no less hilarious.
No one would find it easy to relive one's sexual inadequacies from years gone by, but Fabbri used it brilliantly in his material.
His delivery and change of accent made the rather explicit and graphic reminisces all the more humorous.
Before we knew it the gig, which whistled by, brought on final act Philberto – a Portuguese reality TV star played superbly by comedian Milo McCabe.
Although not to everyone's taste, Milo's mannerisms, accent and sharp wit puts it right up there with those "foreign character" comedians, such as Harry Enfield's Stavros.
But when he was challenged by a certain young lady to take his shirt off "for all the ladies", the final 10 minutes took on a bizarre stage stand-off.
Needless to say, I won't be looking at puppies the same way again in a while.
Roll on November…
(pic by Jonathan White)