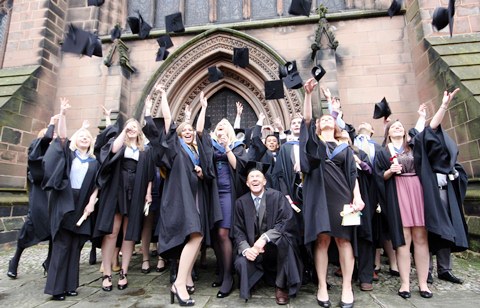 Reaseheath College students celebrated their degrees at a graduation ceremony in Nantwich town centre.
More than 100 graduates dressed in gowns and mortar boardscspilled out of St Mary's Church where they mingled with families and employers.
Passing shoppers stopped to offer congratulations as the graduates were photographed with television personality and farmer Adam Henson, who was guest speaker.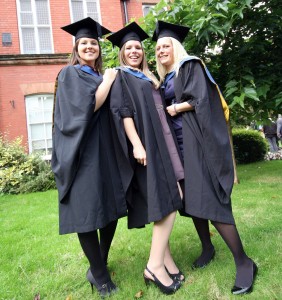 It marked the achievement of 152 students who completed degrees in agriculture, equine science, food technology, horticulture, machinery dealership management and countryside management.
Twenty-five dairy technologists were the first to gain a globally recognised Foundation Degree in Dairy Technology.
They are among a large number of Reaseheath graduates who earn their degrees while working in industry.
Kayleigh Brock and Daryl Craven received "Dairy Student of the Year" awards along with their degrees.
Also under the spotlight were Emma Carr, Miriam Howarth, Helen Lightfoot, Sarah Rainford and Natasha Warren, who all achieved First Class Honours in Equine Science.
College Principal Meredydd David said high level education and skills was a hugely important economic driver which in the last decade had become more accessible. A degree was a passport to work and a successful career.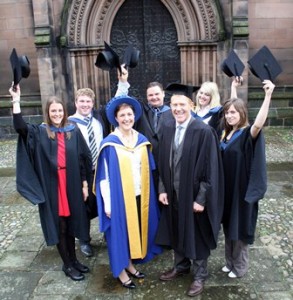 He emphasised that, against a trend of rising unemployment, 90% of last year's graduates were in related employment within six months on an average starting salary of £21,200.
Adam Henson, lead presenter on the BBC's popular Country File programme, said the food and farming industries were on the crest of a wave and offered very exciting and rewarding opportunities.
He also toured the college campus including the on-site farm and took part in a discussion with some of Reaseheath's 400-plus agriculture students.
"I was very impressed with Reaseheath's facilities and with the efforts the college makes to prepare students for the real world of work," he said.
"Agriculture students had some very interesting questions and obviously understand the far reaching issues affecting their industry."
Animal management and science students on degree programmes validated by University of Chester will graduate later this month.