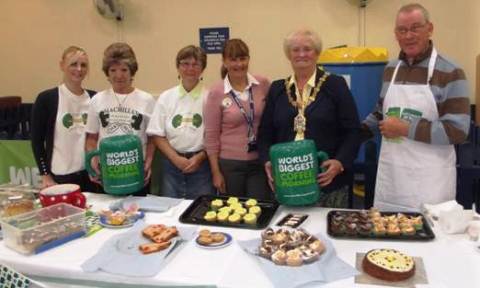 Staff and visitors to Leighton Hospital helped raise more than £3,700 during Macmillan's World's Biggest Coffee Morning.
The Macmillan Cancer Unit at the hospital in Crewe raised £3,312 through donations in exchange for slices of home-made cake.
There were also jewellery and charity stalls, and raffles with prizes donated by local companies.
Bentley Motors donated a cheque for £600 along with a number of raffle prizes.
Julie Pieczarka, Macmillan Cancer information and support manager, said: "I thank everybody who helped to raise this great amount, and all the local companies who donated prizes to our raffle.
"Their support over the years has made a significant difference to the amount we've been able to raise since the unit opened in 2008.
"All money raised really will make a huge contribution to improving care and support we provide to cancer patients, locally and nationally."
Other areas of the Mid Cheshire Hospitals NHS Foundation Trust to hold events included Ear, Nose and Throat (ENT) department's coffee and cake sale, with a visit from Mayor of Crewe, Cllr Margaret Martin.
To support the work of Macmillan in South Cheshire contact Sarah Page on 07595 243018 or email [email protected]