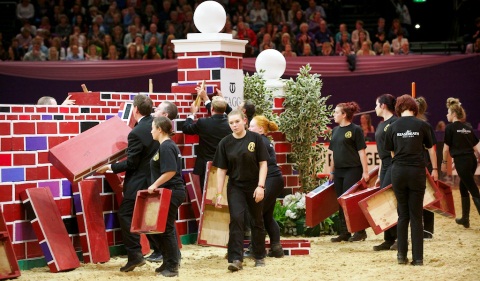 Reaseheath College equine students involved in the Horse of the Year Show, also showed their acting talents in front of a royal audience.
Fifteen of the 36 students who worked at the show in Birmingham had a crash course in acting so they could appear as extras in "The Final Charge".
It was  a World War I battle re-enactment which involved students marching, charging, shooting or dying, as well as building a wall from sand bags and moving props!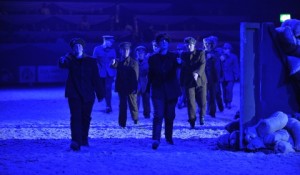 The show, by Atkinson Action Horses, was held in the international arena each night with a second performance on some days.
HRH Princess Anne was a front row spectator on one of the evenings.
It is the second year running the Nantwich college has provided an arena party to help keep the UK's most prestigious horse show running to schedule.
They built and changed the showjumping courses in the international arena – a slick operation where every second counted.
The team, led by FE programme leader Sarah Turner and course manager Kerry Nunns, was on duty for five days working alongside international course designers Bob Ellis, Kelvin Bywater and Bernado Costa Cabral.
And they did such a professional job they have already been booked as the arena party for next year.
Bob Ellis, lead course designer for the London 2012 Olympics, said: "Reaseheath's arena party has been excellent.
"Not only have the students worked very hard and earned something amazing to add to their CVs, they've had fun as well.
"The beauty about this job is that it promotes excellent team work. I think it brings the students together and gives them an experience which would be difficult to replicate anywhere else."