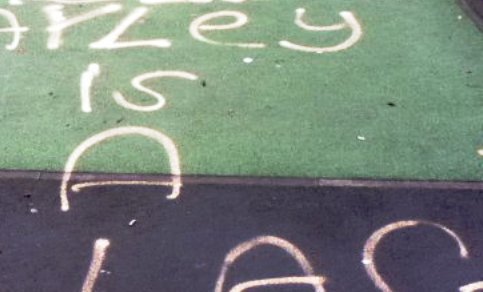 Vandals who targeted a children's playground in Wistaston are being hunted by police.
The yobs daubed graffiti across play equipment and the floor at Joey the Swan park on Valley Road.
The damage has left many residents and park users angry, and sparked furious reaction from local police.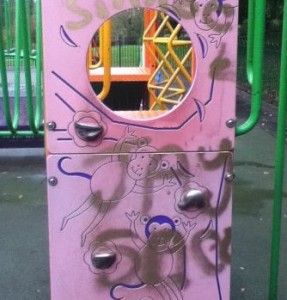 PC Dan Sambrook said: "This is appalling behaviour and has made the area unusable until the graffiti has been removed.
"Over the years we have targeted the area to tackle anti-social behaviour and it was calming down.
"However it appears that over the past few weekends the trouble is back."
PC Sambrook said nuisance caused by youths fuelled with alcohol has been on the rise in the community.
"We have been addressing the problem with issuing notices to leave the area and arrested a male last week," he added.
"We have taken some youths home to be spoken to in front of their parents and have taken details of those causing problems.
"We are working with the anti-social behaviour coordinator to work out long term solutions, but in the meantime we would urge parents to think about where and what their teenagers are doing on a Friday and Saturday night and ensure they are not taking part in the appalling behaviour.
"What may seem like a laugh could result in a criminal record and the potential to ruin a bright future."
Witnesses contact PC Dan Sambrook on 101 quoting incident number 421 of 22 October 2012, or call Crimestoppers anonymously on 0800 555 111.