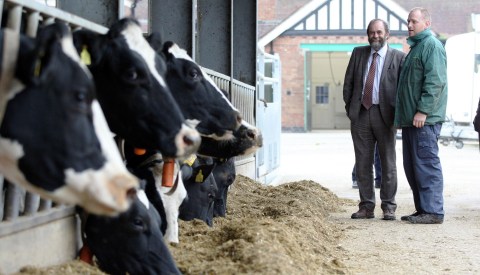 Reaseheath College's role in the UK's food production industry has been applauded by Farming Minister David Heath.
The MP visited the Nantwich campus as part of a fact-finding tour of rural communities and businesses in the north west.
He toured the college's campus farm and food centre and officially opened a new Higher Education and Professional Development Centre.
He said: "I am hugely optimistic about the future of agriculture and food.
"We need to be able to feed people throughout the world efficiently, effectively and sustainably. Reaseheath College plays a very important part in this.
"The great thing for me is that young people are coming into college and going out with skills which will enable them to become leaders in industry, and in a form in which it can be applied.
"There are great facilities here bringing immediately transferable skills to industry and serious employment to students. That is what this college does well."
The minister toured the specialised technical facilities in Reaseheath's food centre, and visited the college's dairy herd and its commercial pig unit.
Reaseheath Principal Meredydd David said: "We were delighted to welcome the minister, who was hugely impressed with the work we do to support rural industries.
"He was amazed by the facilities and by the specialisation that takes place at Reaseheath.
"He was particularly impressed by our deep involvement with industry and by the knowledge and enthusiasm of our staff and students."