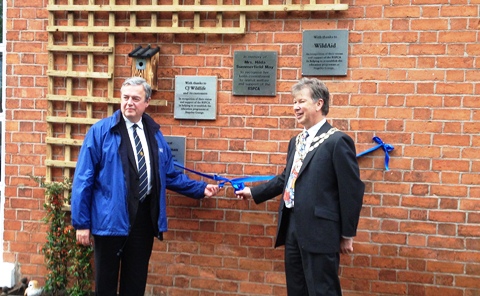 By Laura Normansell
RSPCA Stapeley Grange in Nantwich welcomed visitors to its new-look wildlife centre to witness a new era.
Nantwich Mayor Cllr Graham Fenton and RSPCA boss Gavin Grant reopened its new education programme nine years after it closed.
And centre bosses hope it will educate children to provide them with a greater understanding and respect for wildlife.
Lee Stewart, manager of RSPCA Stapeley Grange, said: "Education is key. If we can get young kids appreciating and understanding wildlife it's got to benefit conservation and animal welfare issues long-term.
"Hopefully, we can create a model here with two corporates that will enable us to take it to our other centres."
Shropshire firm CJ Wildlife, who research, design, develop and supply wild bird and wildlife food, sponsored the programme, along with WildAid, an organisation which hopes to end illegal wildlife trade.
The idea to re-establish the programme came about when Lee met someone from WildAid at a conference last year.
The new programme is aimed at children in primary and early secondary school, educating youngsters about habitats, welfare and conservation.
Mike Hogg, RSPCA director for Midlands and North, said: "It is immensely important for us because if you think about the 'p' in 'RSPCA' it talks about prevention; prevention plays a big part in it and that is really important to us.
"When we stopped doing the education programme nine years ago, it was a backwards step.
"So today is a big day for us. I think the earlier we can get to people, to educate them about animals, the better it's going to be in the future."
The programme will target schools in a 20-30 mile radius, as well as youth groups.
It can cater for 30 children at a time, across four classrooms indoors and outdoors.
Lee added: "There are opportunities for school kids and even members of the public to see what the RSPCA does, in terms of wildlife, so it's an opportunity for them to appreciate what we're doing here, without impacting on the animals themselves."
For more information visit: www.rspca.org.uk/allaboutanimals/wildlife/centres/stapeleygrange/education
(pics and words by Laura Normansell)