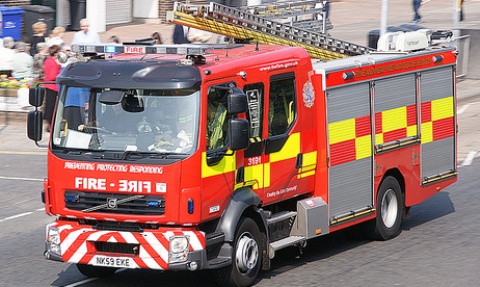 Cheshire Fire chiefs have unveiled plans to change the way large areas of South Cheshire are covered by crews and appliances.
Proposals, which aim to save up to £7 million over the next eight years, include a new station at Alsager and possibly adding a second station in Crewe.
Nantwich looks set to be unaffected by the plans which were presented to Nantwich Town councillors at a meeting in Brookfield Hall last night.
But fire bosses confirmed they are keen to expand the "co-responder" initiative currently in operation in the town to outlying areas such as Audlem and Tarporley.
Keith Brooks, head of community fire protection at Cheshire Fire Authority, said the service was under pressure to make huge savings.
"We try to make all our attendances to call outs in 10 minutes," he said.
"And to do that, we will need to move some stations, build others, and change the shift system we currently have."
Among the proposals are possibly moving the current Crewe fire station north of the town to the Badger Avenue area, or adding a new one there.
"We've had a look at a number of proposals for Crewe, both with either one or two stations, as well as different ways of crewing these," added Mr Brooks.
"But Nantwich will remain the same as an on-call station with one fire engine."
Cllr Arthur Moran called for reassurances that the "Co-Responder" scheme, which sees fire crews supporting paramedics at medical emergencies, would continue.
One idea would be to expand it to Audlem, which has an on-call fire station in an area which has suffered in the past from poor ambulance response times compared to other areas of Cheshire.
"We are very keen to expand this scheme," added Mr Brooks.
"But we are reliant on North West Ambulance Service on this, as they receive the call outs, not us. We have to do it in partnership with them, and they have their own reasons for not wanting to expand it in various areas."
The public consultation on the Cheshire Fire Authority's proposals will continue until December 17.
For details and to add your views, visit www.cheshirefire.gov.uk, email [email protected], or call 01606 868408.