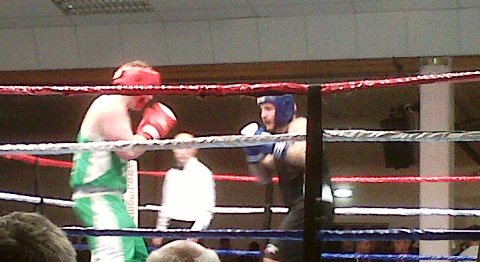 A packed Nantwich Civic Hall crowd enjoyed the annual dinner and Merseyside & Cheshire ABA 2012 boxing event.
Local businesses flocked to the popular event, now in its 33rd year, to help raise money for Nantwich Cricket Club and other causes.
Twelve bouts were keenly contested by boxers from a number of different North West clubs in the ABAE Senior Novice Championships.
Winners in the ring included  Tom Williams (Everton Red Triangle), Andrew Howarth (North Mersey), James Maughan (Wildcard), Ishmael Majid (Anfield), Chris Moreau (Rydal), Louis Jacobs (Knowsley Vale), John Edwardson (Golden Gloves), Tom Shiels (Wirral Community), Nathan Bennett (Kirkdale), Lee Jenkins (Gemini), Paul Riley (Birkenhead Centure) and Dexter Makaza (Salisbury).
A raffle and auction prizes included signed memorabilia from sporting stars also helped raise thousands of pounds on the night.
A signed picture of Brazilian legend Pele sold for £250, and one of Barcelona genius Lionel Messi went for £200.
A signed photo montage of Liverpool and England captain Steven Gerrard was sold for £175, and one of England cricketer Stuart Broad went for £150.
Sponsors of the event included Crewe and Nantwich companies such as  Location Location, Quality Car Leasing, Call Ready, Delmar Press, Blue Bell BMW, LaserInk, The White Horse pub, and CTS security.
Compere for the evening was the familiar voice of Sky Sports football and darts commentator John Gwynne, and catering provided by Ridgway Caterers.
Nantwich CC chairman Rob Sproston said: "It was the highest ever attendance in the history of the event, so thanks to everyone who came along to support us!"