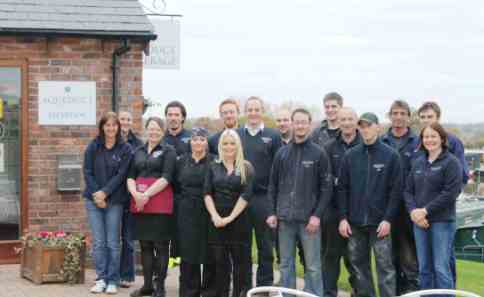 Staff at Aqueduct Marina near Nantwich are celebrating after earning the Investors in People status.
The marina, at Church Minshull, now employs 20 staff just three years after it first opened with four employees.
The business began with the opening of a marina but has since expanded to include a brokerage, chandlery, boat servicing and repairs, boat painting and a café.
Directors Robert and Andrea Parton said: "This is a fantastic accolade for the marina and we would like to thank all the team for their part in helping the business develop.
"We see the Investors in People status as recognition for everyone's hard work in delivering improvements and growth across the business whilst still remembering and including all individual employees.
"All aspects of the business have a healthy order book and we are constantly pleased by customers' praise and satisfaction.
"This is due in a large part to the dedication and commitment of the team and we would like to thank them all as we continue to work towards further improvements and higher standards of service."
Pictured at the marina are staff, including (left to right) Julie Lovell, Sarah Rayner, Cathy Barnes, Chris Moran, Sarah Beastall, Coryn Lawton, Nick Beech, Robert Parton, Joe Sheen, Steve Wallace, Phil Langley, Paul Duncalf, Will Brown, Mick Mellor, Alex Strachen, Andrea Parton.