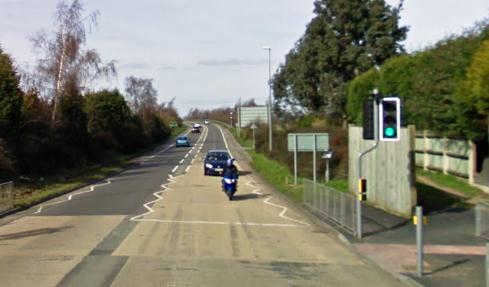 Parents in Willaston are fighting to save a free bus service which carries pupils from the village to Malbank School.
Cheshire East Council has identified a "walking route" which they say could mean the withdrawal of free transport.
It runs from Willaston, down Cheerbrook Road, across the A51 (pictured), down London Road and into the town centre and out along Welsh Row.
However one local councillor says many parents are unhappy as the route made available by a toucan crossing at Cheerbrook Roundabout still poses too many hazards for children.
These include lack of street lighting, indirect route, negotiating a half barrier level crossing, and along London Road which carries a lot of HGVs
Willaston and Rope Cllr Brian Silvester has backed the parents' complaints.
"I have written to the council to ask them to review their decision that withdraws the free bus service from Willaston to the Malbank School," he said.
In a letter, Cheshire East Transport Policy Officer Janet Mills said: "The approval of a new Cheshire East policy now triggers a process of reassessment of all currently assessed walking routes to school, which could have potential impacts on entitlement to school transport.
"The crossing of the A51 at the Cheerbrook Roundabout was originally assessed as "unavailable to walk" but because of the recent installation of a toucan crossing this has made the route potentially 'available to walk'."
Current guidelines say pupils who attend a school less than three miles from home, and who have access to a viable walking route, are not entitled to free transport.
More than 100 pupils attending Malbank High School are entitled to free transport which costs of £75,000 a year.