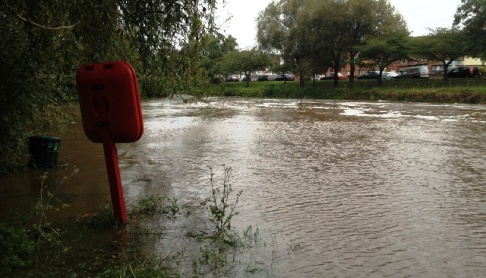 The River Weaver in Nantwich has been placed on Flood Warning by the Environment Agency.
Persistent and heavy rain for several days has seen river levels rise as it flows from the A51 near Reaseheath through the town to Shrewbridge Lodge and Nantwich Lake.
The river has burst its banks in some areas on that stretch, leaving footpaths impassable and fields flooded.
Th Agency moved it from Flood Alert to the more serious Flood Warning at around 5.20pm today (November 25).
"Following Saturday's persistent rainfall the Weaver river level has risen. As a result flooding in the area of Shrewbridge Lodge, Nantwich is expected during Sunday and into Monday (November 26)," said a spokesman.
"We will continue to monitor and update when the situation changes."
It's the second time in two months the river has flooded, after a warning was issued on September 25 after heavy rain.
For more updates, follow the Environment Agency's North West Flood Warning web page