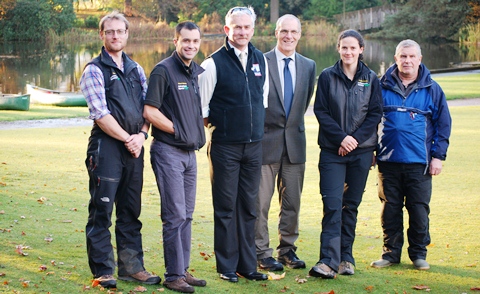 Top mountaineer Nigel Vardy gave Nantwich students tips on succeeding against the odds at a Reaseheath College "Adventure Day".
Known as 'Mr Frostbite', he told how he was plucked from the summit of Alaska's highest mountain with two fellow climbers after being injured in a fall.
Nigel, who lost his finger tips, nose and toes to frostbite, still climbs and is a best selling author and motivational speaker.
He spoke at the Nantwich college as part of an initiative to offer adventure sports students more exposure to the outdoor industry and links to careers.
He also launched three student photo and film competitions, to be judged next year.
Other activities included workshops and demos with leaders in the outdoor pursuits industry including Pyranha, manufacturer of kayaks and canoes, and CITECH, trainers and advisors on bike safety and maintenance.
There were also talks from Cotswold Outdoor Clothing, adventure work specialists CCUSA, PGL and Canoe England, and from Reaseheath HE advisor Jayne Cawood.
Students also watched a presentation from World Challenge on a proposed student expedition to Morocco.
Adventure sports course manager Dan Bean said: "I can't wait to see the students' films. We see them succeed in college every day but this is an ideal opportunity for them to show off their interests outside college too.
"I am constantly amazed by their feats of adventure."