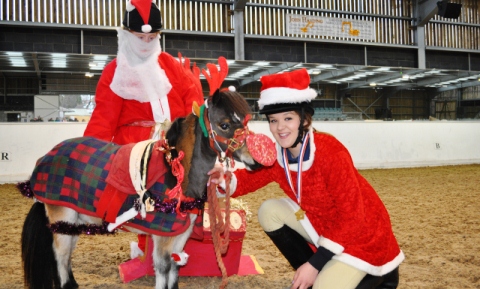 Equine students from Nantwich were caught horsing around at their popular annual Christmas show!
The students from Reaseheath College organised a show to make sure that the term finished with some Yuletide cheer.
The show, complete with carols and festive prizes, was run in the Nantwich college's indoor arena by Level 3 horse management students.
It formed part of their assessment for their event management module.
The showjumping course was built by student Alex Jefferies, who is considering a career as a course builder.
Winners of the six classes were:
Showjumping: (2ft 3in) Holly Bretnall on Dolly Daydream
Showjumping: (2ft 6in) Lesley Mitton on Frankie
Equitation: Megan Cookson on Roonie
Best turn out: Lucy Williams with Ginger
Staff and student showjumping: Kerry Nunns on Rio and Alex Jefferies on Tegan
Fancy dress: Amy Holmes and Chloe Lewis with miniature American Fallabella 'Star'
Pictured are winners of the fancy dress competition Amy Holmes and Chloe Lewis with  miniature American Fallabella pony 'Star', Amelia Frost and Mouse and their Christmas theme fancy dress, and showjumping winners Lesley Mitton with Frankie and Holly Bretnall with Dolly Daydream are joined by Hannah Goldstraw.