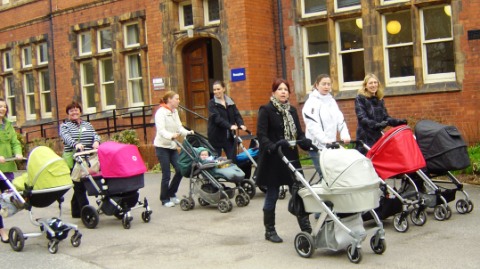 Nantwich mums who pushed their baby buggies 100 miles around town, have raised thousands of pounds for the One in Eleven Appeal.
Now the Buggy Buddies group, which raised money towards a new neonatal unit, is hanging up its baby grow!
The group has met once a week for two years at Funky Monkey Café for chat, support – and a walk.
And they have raised a staggering £4,700 for the One in Eleven Appeal.
They organised raffles and baby discos and each donated £2 every walk to help the appeal create a new neonatal unit at Leighton Hospital.
The group is now winding down its activities as the appeal is close to raising the £1.8 million it needs.
Buggy Buddies founder Caroline Lowther's daughter was born at Leighton.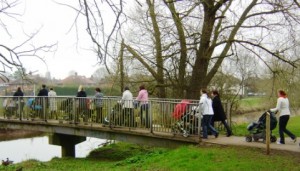 Caroline said: "We wanted to create a place where mums could come together to share experiences and support in a relaxed and informal atmosphere, and to thank the place where a lot of the babies were born and cared for.
"Our babies are walking now and it seemed like the right time to end the group.
"But we have made many lasting friendships. I have been taken back by people's generosity and would like to thank everyone who has supported us."
She started raising money for the neonatal unit when daughter Isla was born in November 2010, and realised how many families need support of the unit.
Jo Davies helped to run the group after all three of her children were cared for by the unit.
Around 3,000 babies are born every year in Mid Cheshire Hospitals and around one in eleven will need additional support.
A new unit is needed to provide more space and a modern layout for more privacy and comfort for families.
Mid Cheshire Hospitals charity fundraising manager Laura Bailey said: "Buggy Buddies has been a real inspiration in supporting the neonatal unit and the One in Eleven Appeal for so long.
"We are so very grateful to them and what they have achieved. It is great to know they have made lasting friendships as well as an impact on the neonatal facilities for Mid Cheshire families."
Buggy Buddies also thanks Charlotte Beardmore-Beck, who provided baby discos, and Beccy Freedman who provided face painting, storytelling and other activities.