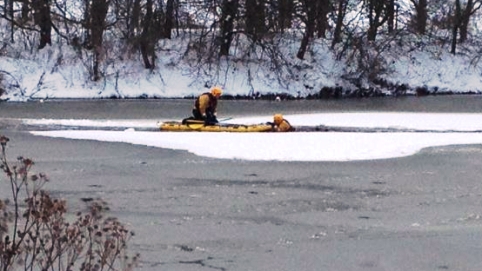 These pictures captured the moment rescuers battled through icy waters to save a swan in Nantwich Lake.
The swan had become distressed after a freak incident involving a dog being walked around the lake on the A530 Park Road.
It's believed the dog's lead became entangled around the bird's neck.
Fire and rescue crews and local RSPCA workers were called to the scene yesterday (January 18).
They used specialist equipment to cut through the icy waters and reach the swan in a bid to revive it.
Onlookers and residents looked on as the rescue operation took place at around 4pm.
The owner of the dog said on Twitter: "My dog got it's lead caught round a swan's neck at Nantwich Lake, and two fire engines and RSPCA have come out to try and revive the swan.
"My dad and crowds of people are there watching this poor swan try and survive! Everyone was shouting at my dad!"
It's unclear if the swan survived. Nantwichnews is awaiting a reply from the RSPCA.
Some readers questioned the scale of the operation to rescue a bird.
One tweeted: "A swan with a damaged wing, three fire engines and RSPCA, cost a lot of money, resources?"
(pictures courtesy of a
Nantwichnews
reader)