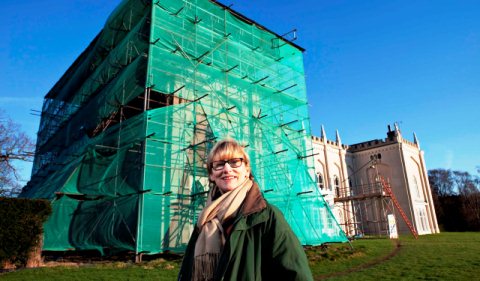 Planning inspectors have given the green light for restoration work at a historic home near Nantwich.
The owners of Combermere Abbey are celebrating after getting the go ahead to repair the crumbling North Wing of the Grade 1 building.
The Planning Inspectorate of the Secretary of State for Communities and Local Government has given agreed to a proposed Enabling Development Scheme.
This scheme will allow funding needed to make the repairs to the wing which owners say has been deteriorating for two decades.
The inspector said all alternative avenues had been exhausted.
"In light of the likely dire consequences should the north wing collapse, I am satisfied the restoration works are necessary to secure the long term future of the Abbey.
"Combermere Abbey is a nationally important heritage asset and it is important to ensure its preservation for the benefit of future generations.
"Key to the Abbey's future is the urgent repair of the north wing and the consequences to this Grade I listed building of not doing could be dire."
Sarah Callander Beckett, owner of Combermere Abbey, said: "I am delighted and hugely relieved.
"For Combermere Abbey this is a life-saving, landmark decision. The North Wing has been in a terrible state for many years, and every winter the situation becomes more parlous still.
"The poor state of the North Wing, and the threat being posed to the centre of the house, has meant we have been unable to have any functions in the Abbey itself in recent times, limiting public access.
"Once restoration is complete the Abbey will again be able to play its part in the life of South Cheshire and North Shropshire."
As a condition, the Abbey will be open to public for at least 40 days a year in future.
And the gardens will be open for a minimum of six days. Dodcutt-cum-Wilkesley and Newhall parishes will be free to hold two events at the Abbey every year.
"Local people will now have access to areas of beautiful mature woodland on the Abbey estate," Sarah added.
"We are particularly looking forward to organising nature study trips for parties of local school children."