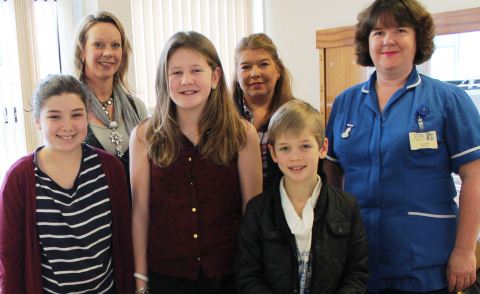 A Rose Queen has helped Leighton Hospital's maternity unit by raising money for new kit to improve care given to newborn babies.
Rebecca Elliott, 2012 Rose Queen for the village of Comberbach, chose the unit as her charity during her reign.
Around £840 was raised through the annual Comberbach Fun Run around Marbury Country Park, which is organised by the village's fete committee.
This was increased by Nicola Hearnshaw of Barclays Bank, bringing the total amount raised to £1,405.
The 2012 fete was opened by Judy Ledger, founder of the Baby Lifeline charity. Since being set-up in 1981, the charity has raised over £9 million to help hospitals purchase vital equipment.
Judy has worked closely with maternity unit staff as well as with Rebecca and her family, to choose most appropriate equipment to buy.
Patricia Hann, a midwife at Leighton Hospital, said: "Thanks to the generous donations given and by Barclays, we have been able to purchase eight new sets of baby scales, which will allow us to keep more accurate records of babies' weights and monitor their progress more closely.
"These will therefore enable us to further increase the quality of care we provide to our babies."
Jane Elliott, Rebecca's mother, said: "Both Rebecca and her brother David were born at Leighton Hospital, and we all just wanted to help to give something back to somewhere that benefits the local community."
Leighton Hospital maternity unit was recently refurbished into a new purpose-built midwife-led unit attached to the main Labour Ward to provide care for low-risk pregnancies.
Facilities include birthing pools in each of midwifery-led rooms and mood lighting to create a calm and relaxing environment.