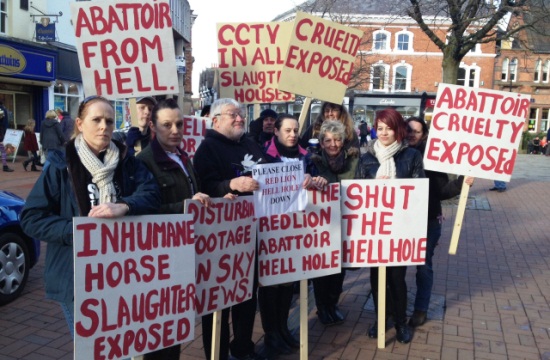 Scores of protesters gathered in Nantwich town centre to demonstrate against a local abattoir at the centre of an investigation into abuse of horses.
The Red Lion Abattoir, at Sound Heath near Wrenbury, is being probed by the Food Standards Agency (FSA) and the RSPCA.
It comes after a secret video filmed slaughtermen at the abattoir, which was broadcast by Sky News.
People from around the country travelled to Cheshire to take part in the protest, which also included a two-minute silence outside the abattoir.
TV crews from ITV and Channel 4 covered the demonstration, as Cheshire Police officers looked on.
One of the organisers Nicola Allen, who was at today's protest, told Nantwichnews: "The fact the abattoir is still trading after this with only two staff having their licences revoked has upset a lot of people.
"We as a horse community have heard horror stories about this place for years with no proof. We've had people from as far as Glossop, Bristol and all over at this protest.
"The campaign is growing daily and attracting huge support from general public and horse owners alike."
The abattoir's owners High Peak Meat Exports has declined to comment.
Campaigners want to see a change in the law to prevent slaughter of horses and to install CCTV cameras in all abattoirs in the future.
The secret film was made by Hillside Animal Sanctuary, based in Norfolk. The film allegedly shows horses being beaten with sticks, a rope and iron rods to move them into metal pens.
Two slaughtermen have had their licences withdrawn by the FSA while the investigation continues.
(Video by Drew Kirk Productions)
(Pictures by Jonathan White)