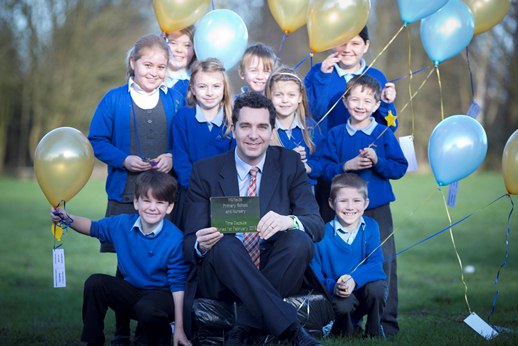 The new Children's Minister Edward Timpson joined in the celebrations as a Nantwich primary school buried a time capsule.
The Crewe & Nantwich MP was invited by Millfields Primary and Nursery on Marsh Lane to bury the capsule to be opened in 100 years.
It was organised by pupils and staff as a celebration of the school's recent success hailed by Ofsted inspectors.
Youngsters like six-year-old George Phipps designed a flipbook depicting how we all might look in 100 years, before dropping it into the capsule.
Fellow pupil Esme Brayford, seven, added her flipbook.
Nine-year-olds Jessica Watkins and Adam Coleman read out a book of events that happened in 2012.
The book was written by the children to place inside the capsule.
The capsule was buried on school grounds with a plaque to mark the spot.
Also pictured with the time capsule are Mr Timpson and Millfields headteacher Andrew Ross.