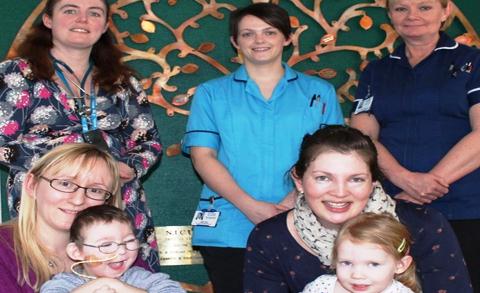 South Cheshire's "One in Eleven" Appeal has hit its £1.8 million target after 12 months of tireless fund-raising by supporters.
The funds will be used to create a new neonatal unit at Leighton Hospital for families in Crewe, Nantwich and surrounding areas.
The appeal has reached its target 12 months earlier than expected and preparations on the new unit could get underway later this year.
Tracy Bullock, chief executive of Mid Cheshire Hospitals NHS Foundation Trust, said: "We are absolutely delighted.
"We would like to thank every single person that has helped us achieve this. You have all played a part in providing this wonderful facility that will serve families in Mid Cheshire for many years to come."
The One in Eleven Appeal was launched by Mid Cheshire Hospitals Charity, with backing from local supporters, families, local fundraisers, media and businesses.
It received a massive boost when £1.5m was donated by The Frank Hockenhull Trust.
After the success of One in Eleven, the charity will continue to support other areas of the hospital.
Laura Bailey, fundraising manager for MCHC, said: "Even though we have reached our target, the hard work won't stop.
"The appeal will fund the physical renovation works to the building but the neonatal unit will still need the support of its local community and we hope people will keep it in their hearts and minds long after the appeal."
Around 3,000 babies are born every year at Mid Cheshire Hospitals NHS Foundation Trust, with one in 11 needing additional support.
The new unit will be double the size and will be housed in an existing space next to the refurbished labour ward.
Lynn Pessol, ward manager for the neonatal unit, said: "All staff are excited to see our new unit take shape.
"We have always been fortunate to have the support of our local community. Our new unit is not the end of the story and we hope this vital support will continue in the future."
Appeal supporters include Asda Crewe, Amy Smallman and her Rose Queen attendants, Bizzybods Nantwich, Buggy Buddies Nantwich, Sharon Burrows, Charlesworth family, Crewe Chronicle, Cheshire Building Society, Debra Cummins, Jo Davies, Hayley Esgate, Tracy Howe, Caroline Lowther, Mecca Bingo, Kevin Mooney and Gareth Williams, Red Shift Radio and The Ray of Hope charity, Ailsa Rowlands, Rebecca Swain, Claire and Rob Sandall, Sainsbury's, Training Bytesize, Vale Royal Abbey Golf Club, Waitrose, Lucy Williams, and many more.
(Pictured are neonatal staff (back row), Lucy Williams (front left) with son Thomas, Jo Davies (front right) with daughter Grace)