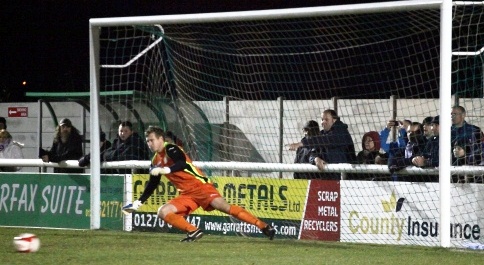 By Robert Summerscales
Nantwich Town manager Jimmy Quinn insists he was pleased with his side despite a 2-0 home defeat to Rushall Olympic.
The Dabbers conceded twice in the opening 12 minutes, and played for 80 minutes without keeper Jon Brain (pictured).
Brain received a red card for handling the ball outside of his area, but Quinn believes it was a harsh decision.
"I thought there were three covering defenders," said the Dabbers boss. "But the referee said it was a goal-scoring opportunity.
"I can't fault the lads in terms of the effort and quality. We were very unlucky.
"I think if Kyle Wilson had scored just before half time, instead of their keeper making a fantastic save, it would have been a very different story – even with 10 men."
Man-of-the-match Darren Moss, who took over the goalkeeping duties valiantly, added: "It's obviously disappointing to go down to 10 men. I don't think it should've been a sending off.
"From what I saw, there were a few covering players back.
"I was very disappointed to concede from the free-kick straight away [after replacing Brain] because I felt we could've won the game otherwise.
"I thought we played some good football in the first half. We just needed that goal."
Sam Smith had given Rushall an early lead with a sharp volley in the penalty area, before Dave Walker headed past Moss moments after Brain was sent off.
But after that, the Nantwich skipper's sheet remained clean as he kept the visitors at bay with a string of fine saves.
Quinn's men responded well, Sean Cooke struck the Rushall crossbar with a 40-yard lob, before Kyle Wilson forced a splendid double save out of Curtis Gemmell.
The 10 men of Nantwich continued to impress after half time.
Wilson spurned a glorious opportunity to end the Dabbers' recent goal drought, as he fired over from four yards following a terrific run and cross by Cooke.
Rushall attempted to unsettle Moss by frequently launching high balls into the Nantwich penalty area.
The tactic failed, though, as Moss demonstrated superb decision-making to catch and punch with success.
New signing Chris Bailey played the full 90 minutes for the Dabbers, while loan duo Brandon Windsor and Harry Clayton also made their Nantwich debuts.
Nantwich: Brain, Raglan, Bailey, Hughes, Dicker, Moss, Cooke, Bateman, Windsor (65), Wilson (Cole 75), Maguire. Subs: Everall, Lane, Jones.
(pic by Simon J Newbury Photography)