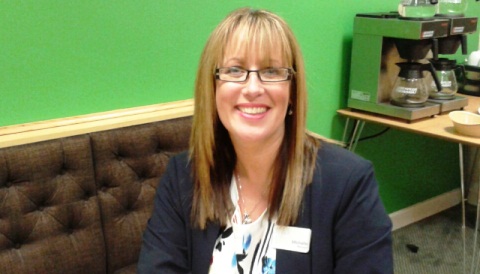 The boss of the new Marks & Spencer store in Nantwich revealed how she hasn't even seen inside the shop yet – less than four weeks before opening.
Michelle McMurray is desperate to get inside the new Simply Food outlet on Beam Street, which is creating 60 new jobs.
The 42-year-old is in town this week to help with recruitment and to meet new members of staff before the 9,000 sq ft store opens on April 10.
And at a training day held at Nantwich Town's Weaver Stadium, she took time out to speak to Nantwichnews.
Michelle said landing the job of store manager in Nantwich is the pinnacle of her 26-year career with M&S. She started out as a YTS earning just £27.50 a week at the Stockport branch.
"I was banging the door down to be interviewed and considered for this," she recalls.
"I've been manager at a couple of places, but to be in charge of a new store opening is a real privilege.
"But I won't be able to see inside until April 5, just a few days before. I've been walking around the building, face up against the window like a big kid!"
Some local traders feared a new M&S store could impact on their trade in the town.
But mother-of-three Michelle praised the local population for making her feel at home.
"Wherever I've been here I've had the warmest of welcomes. It's a great town, with lovely people.
"I've been in many local shops, told them I'll be working at the new store, and the reception has been really positive.
"I know for some people something new, change, can be difficult at first. But I think an M&S store is a great offering for a town like Nantwich."
Michelle said she was also delighted that many of the new recruits are Nantwich people who will be employed.
"An awful lot are local and can even walk to work, it's fantastic," she added.
"It's important for the store that we employ local people, as we want to be a part of the community. They will be our customers as well as employees, we will listen to their ideas and suggestions."
One new recruit is Pauline, who has lived in Stapeley for more than three years. She will work in the new store's 50-seat cafe.
She said: "I was waiting for the jobs to come online ever since they started building the store.
"It's a career change for me, I worked in laboratories before. And I can't wait to get started. I think it's a real boost for the town."
The opening day will include entertainment and promotions. Punters could win a share of £1,000 in M&S Gift Cards with Signal 1 FM between 12pm and 2pm.
The shop will be open 8am to 8pm, Monday to Saturday, and 10am to 4pm on Sunday.
Customers can also use the M&S online "Shop Your Way" service in the new store. Anything ordered online or from the catalogue in the store will be delivered free to the shop in 24 hours for collection.