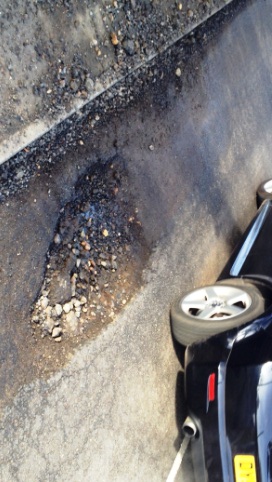 Exclusive
Compensation paid out by Cheshire East Council for pothole-damaged vehicles has almost trebled in 12 months, Nantwichnews can reveal.
They paid out a staggering £32,000 to drivers in 2012 as claims lodged more than doubled compared to 2011.
Figures obtained under Freedom of Information show 519 claims were made against Cheshire East by disgruntled drivers last year.
That's a massive rise from the 226 claims lodged in 2011.
And the council is bracing itself for another spree of claims as a wet winter has again left many roads in Crewe and Nantwich riddled with dangerous potholes.
However, statistics show the council admitted liability for only 110 of the 519 claims in 2012 – just over 20%.
In 2010, they admitted liability to just 30 of 353 claims. This rose to 45 of 226 in 2011, and again to 110 in 2012.
In total, Cheshire East paid out £10,346.64 in compensation in 2010, £11,380.35 in 2011, and a staggering £32,022.98 last year.
And the 2012 figure could be just the tip of the iceberg, with 66 claims still unsettled.
The statistics will add fuel to angry motorists who accuse the council of neglecting the borough's highways, only concentrating on temporary "patch" repairs.
Many major roads around Nantwich have been badly hit by potholes, including the A530 Park Road out towards Whitchurch, A51 Newcastle Road near Cheerbrook, and busy town streets such as Marsh Lane and Hospital Street.
Last week, Cheshire East was forced to close the A500 Shavington bypass between Nantwich and the M6 to carry out emergency resurfacing because of potholes.
Nantwich Town Cllr Stuart Hutton said figures show Cheshire East's approach to meeting highways targets "aren't being met".
"These figures do suggest the issue is getting worse, not better. I know CEC set themselves tough targets for repairing potholes – but even the most ambitious target is futile without a robust plan to deliver on it.
"As those of us used to dodging potholes on our daily commutes can testify – these targets plainly aren't being met.
"I suggest that CEC Highways needs to take another look at their solution for dealing with potholes and come up with something better.
"However, while planning committees approve industrial installations and associated HGV movements in the countryside, and large housing estates attached to towns whose ancient infrastructures can barely cope, our roads will continue to crumble."
Cllr David Topping, Cheshire East Council Cabinet member in charge of environment, said: "Following one of the wettest years on record and an especially prolonged winter, 2012 was a terrible year for roads throughout the whole of the UK.
"In Cheshire East we have taken the step of investing £25m in improving our road network over the next two years. In addition to this investment, we are improving our customer service, making it easier for people to report and track their query.
"As with most highway authorities, following severe weather conditions, Cheshire East experiences an increase in insurance claims, which inevitably results in increased costs. We expect the level of claims to reduce significantly in the coming months as the additional investment is delivered.
"Although we are disappointed to see that claims are increasing, the level of payments made is relatively low when compared to most other north west councils."