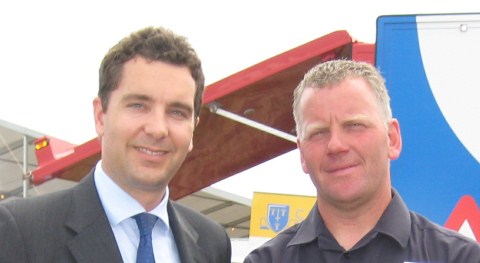 A carer from Nantwich has praised the public and the town's First Responder after he collapsed during a walk around Nantwich Lake.
The man, who cares for his elderly mother, suffered a serious blackout on a footpath by the lake on Easter Sunday.
The next thing he remembers is being treated by the Nantwich First Responder Gavin Palin (pictured with MP Edward Timpson) and then in the back of an ambulance.
Now he is keen to trace the member of public who used a mobile phone to ring 999 after seeing the victim collapse.
The man, who wished to remain anonymous, said: "I'd gone for a walk in the afternoon just to get a break when I had an attack. Doctors think it could be epilepsy.
"Some kind soul phoned the ambulance service and the first thing I remember was seeing the rapid responder running towards me.
"I'd injured my leg and arm in the fall and with me being a full-time carer, they kept me in the ambulance for over an hour to treat me and make sure I was ok.
"The guys were unbelievable. I remember signing Edward Timpson's petition to reinstate the Community First Responder's blue lights.
"He assessed the situation, explained everything to the paramedics when they arrived. It showed me exactly why this service is so vital."
The incident happened at around 5.30pm on Easter Sunday (March 31), and was the first time the man had suffered a black out in public.
"I'd suffered three or four in the last few months but never like this," he added.
"I really don't know what happened and I would like to appeal to the member of public who looked after me and contacted 999."
*If you were that person, contact us at [email protected]