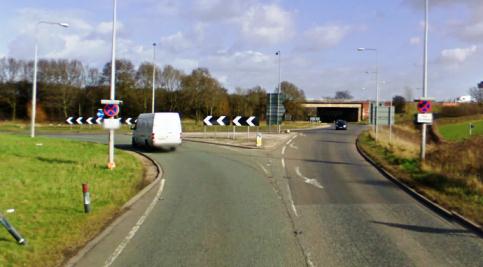 A £7.5 million grant will help ease traffic congestion for thousands of Crewe and Nantwich drivers using junction 16 of the M6.
The funds secured by Cheshire East Council will pay for widening and traffic signals on the northbound slip road and A500 approaches.
The Highways Agency says this will reduce queuing and delays on the approaches, which can tailback to the A5020 and A500 roundabout at Weston.
It is one of 58 schemes where they want to reduce congestion and improve safety as part of a "strategic pinch point" programme.
It comes just two weeks after Cheshire East secured £2.7 million of "local pinch point" funding for a Basford West spine road linking the A500 at Shavington with Gresty Road, Crewe.
Cllr Michael Jones, Leader of Cheshire East Council, said: "I am delighted to see the Government takes Cheshire East seriously as a place for investment and understands the need to improve the nation's highway network.
"One of our key aims is for Cheshire East to have a strong and resilient economy and improving the roads in and around the borough ensures we will gain an even greater reputation as an excellent place to do business."
The scheme will also improve access to planned employment and other key development sites in South Cheshire.
Work on the M6 junction improvements are due to take place in 2014 and be completed by the end of that year.
Cheshire East has also applied for a further £2.8 million of local pinch point funding for a 600 metre-long widening of the A500 on the approach to junction 16.