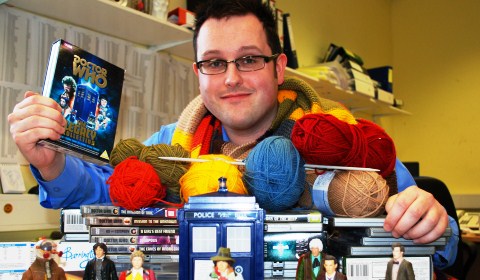 A Dr Who fanatic from Nantwich is hoping to stitch up a tidy sum for the Douglas Macmillan Hospice by knitting Tom Baker-style scarves.
James Nicholls, 28, took up knitting to relax while studying for his accountancy qualification and has sold the long, colourful scarves on the internet for £50.
After passing with flying colours he is working at Barringtons Chartered Accountants where colleagues are sponsoring his challenge to watch 900 episodes – a total of 422 hours – of the Time Lord's intergalactic travels.
When he finishes James plans to go back to 1967 watch his favourite Doctor, played by Patrick Troughton, overcome an invasion by the Cybermen again.
He said: "Staff at Barringtons are really committed to supporting the hospice and are always coming up with wacky ideas to raise funds. When they heard I knit scarves they suggested I did it for the hospice while sponsoring me to watch my entire collection of DVDs in 900 days.
"I'm just over half way through and have reached 1978 with Tom Baker as the Doctor so there's quite a way to go yet but so far I have not missed a day."
The 'Who-vian' hopes to raise hundreds of pounds for the hospice and add to the funds already raised by colleagues who stage dress down Fridays and regular whip-rounds.
(Pic: Accountant James Nicholls has undertaken a Dr Who fundraising marathon for a hospice)