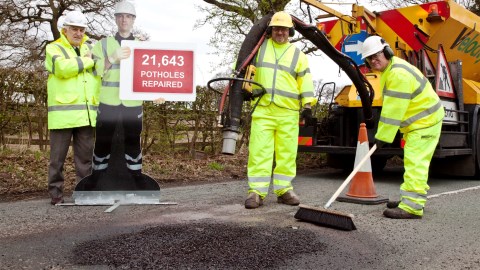 A quarter of Cheshire East roads needing potholes repairs are in Nantwich, according to latest figures.
Around 400km of the road network in the borough are still in need of repair, despite more than 21,643 potholes being filled so far this year.
And 25% (100km) of the network classed as defective is in the Nantwich area.
Another 18% is in Congleton, 18% in Macclesfield, 17% in Crewe, 13% in Knutsford, 5% in Poynton and 4% in Wilmslow.
Cheshire East Council says warmer spring weather means repairs to highways can gather momentum.
Highways teams have filled 21,643 potholes between January 1 and April 21. They aim to repair more than 50,000 by the end of 2013.
Members of the public are being encouraged to report all potholes to Cllr Dave Topping, Cheshire East Council's Cabinet member in charge of environment.
The authority is investing £25 milllion in road repairs and resurfacing works over two years.
They want to prioritise defects and roads in the worst condition and end the "cycle of decline" in the network.
Cllr Topping said: "We have been working really hard to repair the crumbling fabric of our roads – but there is still much to do.
"That is why we want people to report potholes to the council, so we can target the worst problems more effectively and quickly.
"Successive bad winters and flooding last summer have left our roads in a poor condition and we know what we have to do to keep the network in a safe condition and clear the backlog of repairs.
"A measure of our commitment is that we are investing £25m over two years to repair local roads – and this will have a major impact on improving road conditions for local people and drivers."
You can report a pothole via the Council's website at: www.cheshireeasthighways.org/ReportIt
Alternatively, ring the highways team on 0300 123 5020.