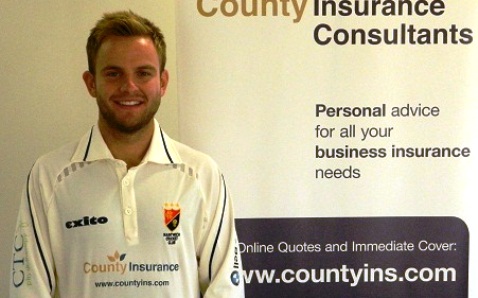 Nantwich CC have secured a new sponsor in local company County Insurance.
The deal is a boost for Whitehouse Lane club, who narrowly lost by six runs at Didsbury in a less than convincing start to the 2013 season.
Nantwich, defending Cheshire Premier champions, reduced Didsbury to 198-6 off 51 overs, but were then all out for 192 in reply.
But just two games, there is plenty of time for Nantwich to rediscover winning ways.
And new backers County Insurance believe the club can continue its title-winning streak.
Nantwich CC opening batsman and wicket keeper Jonny Kettle (pictured) works at the company.
Tim Crighton, marketing director of County Insurance, said: "We're pleased with the profile our brand has received in the last three years via our sponsorship of Nantwich Town FC.
"We now want to take this a big step forward and sponsoring Nantwich Cricket Club is a perfect vehicle for this.
"County Insurance firmly believes in sponsoring local teams, which not only increases our company awareness in the area but allows us to give a little something back to the community where we all live and work.
"Nantwich Cricket Club are very newsworthy as they have been so successful in recent years and we expect their profile to remain high this season and beyond.
"The crowds continue to increase and there is a definite feel good factor about the club after three consecutive league titles."
Wayne Morgan, board member of Nantwich CC, added: "The club is absolutely delighted County Insurance has come on board with our club and I agree it is the right time now for County to expand their brand awareness."