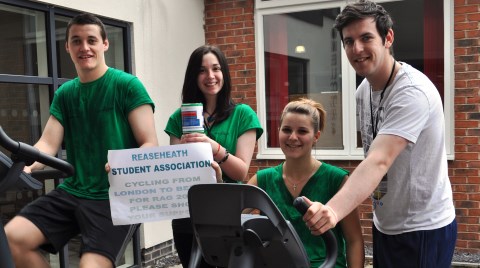 Reaseheath College students rocked, cycled, paddled and hiked to raise funds for charity during the college's annual RAG Week.
A Las Vegas RAG Ball, a 665-mile static cycle challenge, a raft race on the college lake, a tractor pull and a sponsored dog walk were among activities enjoyed by students at the Nantwich college.
So far students and staff have raised £4,500 for their 2013 charity Broughton House – a care home for ex-servicemen and women from all areas of the armed forces.
They are hoping extra activities from now until the end of term will help reach their final target of £7,500.
Members of Reaseheath's Student Association put together a programme of activities which appealed to all students.
Other activities included collections from shoppers in Nantwich, Crewe, Liverpool, and Manchester, an army themed fancy dress pub crawl, a beer, barbecue and football day, car washes, a slave auction, leg waxing, a beer barrel race, a staff versus students football match and a sponsored 'stay awake' for one night.
Students and their dogs also enjoyed a one and a half mile army-themed sponsored walk round the college grounds.
They will continue fund-raising at Reaseheath's Family Festival on Sunday May 12 and at the Cheshire Show in June.
RAG chair Sam Norfolk, 19, said: "This year we cycled the equivalent of the journey between two big European capitals which were central to the World Wars.
"As well as raising money for a worthy cause we are also encouraging our students to think about the armed forces which are currently engaged in action abroad. Many of these soldiers are the same age as us."
Chris Thomas, chief executive of Broughton House, said: "I am amazed at the funds already raised by Reaseheath students for Broughton House and delighted they will continue to support us throughout 2013.
"Reaseheath College's drive to support military charities should serve as an example to students in other colleges. They have not forgotten those who served and it is very much appreciated by all who live and work at Broughton House."
(Pic: Student Association members Chris Heggarty, Nicola Chambers,  Elen Griffin and Sam Norfolk)