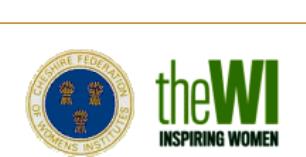 By Val Ingram
Youla Bailey gave a fascinating talk on buttons at the May meeting of Bridgemere and District WI.
A member of the British Button Society founded in 1975, Youla outlined the history of buttons.
She displayed a large collection of buttons of all types and ages for members to see as well as presenting a few of her favourites.
These included a rare Icelandic costume button and a set of small buttons dating from 1959 each with a different Guinness advertisement as well as a glass Bimini button.
She told members that the first known button-like objects date from 3000 BC.
Button making in England started rather later but by 1600 it was well established in England, notably in Dorset.
And Cheshire had its own button industry in Congleton, Leek and Macclesfield where silk buttons and braid were made.
Button making was initially a cottage industry. Bone and then metal rings were covered with cloth and embroidered on farms in the winter and brought into the towns to sell at market. In 1600 button makers were paid 11 ½ pence a gross.
By the 17th century the demand for buttons on men's clothes increased greatly, driven partly by Louis IV who, in 1643 spent £26,000 on six buttons, with jackets often decorated with in excess of 60 buttons and the button industry prospered. By contrast women wore jewellery rather than buttons.
Over the next two centuries, men's clothing became more sober but other customers were found including, of course, women while manufacturing costs were reduced.
In 1851 John Aston showed a button making machine at the Great Exhibition. This marked the collapse of the cottage industry.
By the late 19th century, manufacturers who were already using enamel, embraced early plastics such as Celluloid (discovered in1846), Casein (1896) Bakelite (1907) and Lucite (1931), used for aircraft windscreens, to increase the range.
Mourning and even suicide buttons were produced and a great variety of habitat buttons where insects and flowers were encased in plastic.
So art nouveau segued into art deco and all manner of sporting, livery, industrial and military button sets were produced which continued to sell into the second half of the 20th century. The button industry today is, however, much reduced.
Next meeting is Thursday June 20, when Mrs C Bradford will talk about her memories of an Army childhood. Meetings are held at 7.30pm at Bridgemere Primary School.
For details contact Pat Cornes on [email protected]