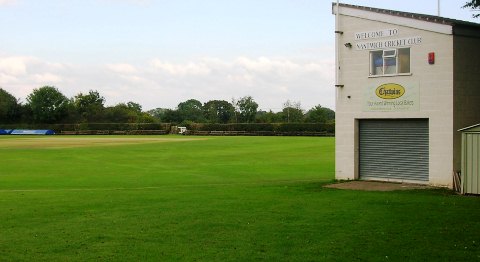 Nantwich CC 1sts battled to a draw against Hyde after the visitors smashed 274 runs from their 55 overs at Whitehouse Lane.
Nantwich, chasing their fourth Cheshire County Premier title, hung on finish on 194-9.
Hyde's Danny Berry starred for the visitors, hitting 95 from 134 balls.
He was ably supported by two players who finished on half century 50s – Tom Twiney and Christopher Tipper.
The Nantwich attack was led by Jack Goode who claimed three wickets, but also went for 66 runs in 12 overs.
Ray Doyle finished with two wickets, going for 69 runs in 11 overs. Jimmy Warrington proved the most economical, conceding 53 from 16 and claiming the key wicket of Twiney.
Hyde put their hosts on the back foot early in Nantwich's reply, Sam Hunt out for just 1.
Jonny Kettle (54) and Liam Livingstone (62) then put on a fine 106 partnership to give Nantwich a sniff of a chance of victory.
But when they were dismissed within minutes of each other, Nantwich struggled.
Skipper Doyle went for 14 and Ollie Law 18, so it was up to the bowlers to avoid defeat.
Goode and Oliver Griffiths did well to see out the last four overs as Hyde tried desperately to claim all 25 points in an away victory.
The losing draw sees Nantwich slip more than 40 points behind early pace-setters Neston CC.