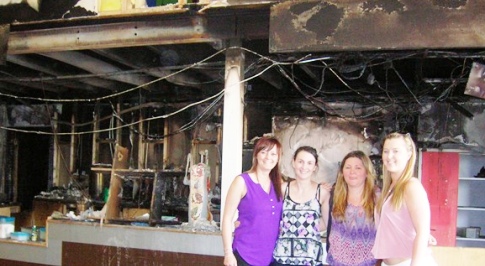 A Nantwich mum has told how she will rebuild and relaunch her Playworld business after a devastating fire wrecked the popular venue.
Playworld owner Mandy Grinnell has started the painful job of clearing out the gutted premises in Shavington.
But the mother-of-three, from Stapeley, spoke of her determination to turn it into a booming business once again – six years after it first opened.
She gave Nantwichnews a look inside the devastated building off Newcastle Road.
And these pictures tell just half the story. Every room is destroyed, all play equipment is smoke damaged.
Heat from the blaze melted play structures, damaged the roof and walls, and throughout the building has left an acrid, charred smell of devastation.
Ashes and black, burnt remains of toys, furniture and appliances litter the building.
The source of the fire, a faulty kitchen appliance, sits unrecognisable among the ruins.
Playworld has been closed since the fire in April, and Mandy has lost several part-time members of staff as a result.
But together with her three full-time employees Jessica, Gemma and Sarah, she is determined to rebuild.
"Everything inside the building is going, it has to be all stripped out," she said.
"That includes all the party rooms on the first floor which were also badly damaged. It's a complete rebuild."
Safety inspectors will also need to examine the roof of the building once all the play equipment structure is stripped out.
"Once we know that is safe and the contract cleaners have been in, we can start work," Mandy added.
"We've spoken to customers and we are keen to keep a similar lay out, but we can modernise the place and give it a fresh look.
"We have one or two other plans as well which we won't reveal yet.
"There were times I just wanted to pack it in, but the support I've had has been incredible and I'm not determined to work through the summer to get Playworld back to where it was – and better!"
The only casualty in the devastating fire was a sparrow who had taken up residence high up in the building's roof beams.
"He was a bit of a feature actually so it was sad to find the bird dead," Mandy continued.
"We've managed to rescue one or two toys and pictures, too.
"And I suppose you could say we were lucky. The firemen said a few more minutes and the whole building would have gone such was the ferocity and heat."
Once insurance and safety issues are settled, Mandy is hopeful Playworld could be back in business as early as September.
For now, it's all hands to the pump – and the skips – to sweep clean the ashes and start afresh.