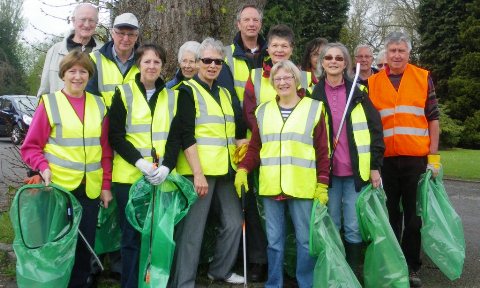 Nantwich's new "zero litter" campaign could be paying off, according to volunteer pickers.
Organisers of Nantwich Litter Group's latest "Group Pick" said they were heartened that there is "noticeably less" rubbish littering the streets.
Their latest target was the roads, paths and lanes off both sides of Welsh Row, including parts of Kingsley Fields and Taylor Drive.
Eighteen volunteers collected 16 bags in about an hour, with previous picks of the same area netting almost 30 bags.
A spokeswoman said: "We are considerably heartened by this.
"Credit is due to Streetscape – Cheshire East Council's street cleansing team – Litter Group volunteers and Nantwich residents for working together.
"A culture of "zero litter" is of course the long term aim."
Volunteers relaxed afterwards with coffee and a chat at Nantwich Bookshop cafe in the town square.
Between Group Picks individual volunteers continue to work tirelessly to keep their own chosen areas clear of litter.
Small groups of volunteers also tackle "grot spots" as they are identified.
The next group pick will be on Wednesday June 26 at 10am.
New volunteers are always welcome and litter picking kit can be provided.
For details contact Team Leader Joyce Webb on 01270 626435 or email [email protected]