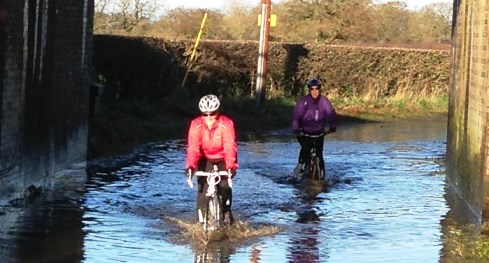 A wine saleswoman from Nantwich hopes to show she has plenty of bottle when she tackles a 300-mile bike ride for charity.
Nicky Gent, 43, from Stapeley, is among a team facing the four-day London to Paris challenge which sets off this weekend.
The challenge will help to raise thousands of pounds for Alder Hey Hospital in Liverpool, where Nicky's niece Erin was treated.
Nicky said: "It's a great opportunity to raise money for charity, and it's a massive personal challenge for me.
"Six months ago I wasn't a cyclist, and I couldn't manage to ride more than a few miles… 3.2 miles to be exact.
"I took a 'test-ride' on a £99 bike bought at a toyshop 10 years ago, and had to keep turning left as I couldn't take my hands off the handle bars to turn right!
"Thankfully now I have a bike that should actually get me to Paris, I can signal both left and right, and I can manage more than 3.2 miles without my legs feeling like jelly. I've come a long way.
"Erin has cerebral palsy, and has had two major operations on her legs at Alder Hey Children's Hospital to assist with her walking.
"When I explained what I was doing immediately she said I should raise money for Alder Hey 'because they help lots of children who have different illnesses'. And she's right!"
The Nantwich team, called the "Brasil Velo Club" is made up of three girls and six boys.
Day one sees them ride 81 miles from London to Dover, then a 67-mile pedal from Calais to Arras on day two.
Day three sees them travel 91 miles from Arras to Beauvais, then the final 60 miles to Paris on the last day.
They have been training throughout the winter around the Cheshire countryside in Wybunbury, Audlem, Beeston, Peckforton, Bunbury, Tarporley and other villages.
"I've also been doing 2-3 spinning classes a week since October, at Shavington Leisure Centre, to build up my fitness," Nicky added.
"For the last few months I've been cycling between 40 and 70 miles most weekend days to get bike fit."
If you can help Nicky raise money, visit her just giving page is www.justgiving.com/Nicky-G