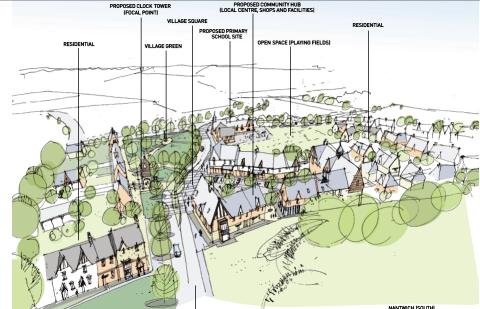 A parish council in Nantwich is to spend £12,000 on a barrister to fight controversial housing plans.
Stapeley Parish Council is to plough thousands of taxpayers' pounds into the battle with Muller Property.
Muller's planning application for the first phase of a 1,100-home "Nantwich South" village on land off Peter De Stapleigh Way was rejected by Cheshire East Council.
But the developers are appealing against that decision which is currently being investigated by the Planning Inspectorate.
And it could involve a public inquiry being held later this year.
Members of the public attended an extraordinary meeting of Stapeley Parish Council on June 13 and agreed to engage the services of Hindhaugh Associates Ltd.
The council will be represented by a barrister at the inquiry which will cost around £12,000.
"It is hoped that residents will consider this to be a good use of public money," said a council spokeswoman.
Cllr Andrew Martin, Cheshire East councillor for Nantwich South & Stapeley, said: "This development has caused a significant amount of local upset.
"It shows that the Parish Council is taking matters very seriously in their attempt to stop this proposal."
Muller Property's other application to build an access road into the proposed site is set to be heard by Cheshire East's Strategic Planning Board this week.
A decision on the access road was deferred from April 3 after it emerged several mature trees which were key to the access route were mysteriously chopped down.
It goes before the board this Wednesday June 19. Members of the public are able to attend.