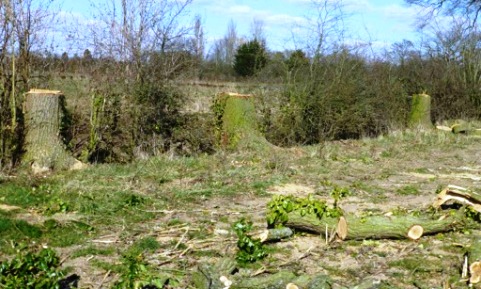 The first phase of a massive 1,100-home "Nantwich South" village in Stapeley has been kicked out by Cheshire East councillors.
But campaigners are angry a second application for an access road was deferred after oak trees were chopped down just hours before the planning meeting.
The trees, thought to be 200 years old, were the key reason why planners had recommended Muller Property's access road application be rejected.
Sources say they witnessed the oaks being felled on Easter Monday – less than 48 hours before the Strategic Planning Board.
It meant the application could not be refused and councillors were forced to defer their decision.
Nantwichnews has been forwarded these pictures of the felled oaks by anonymous sources.
A spokesman for Muller Property said they were not aware of any tree felling on the site off Peter Destapleigh Way.
However, Cheshire East Council arboricultural officers are now investigating to see whether the felling was licensed and could report it to The Forestry Commission.
Protect Stapeley campaigner Pat Cullen, who attended the meeting, is among more than 1,700 people who signed a petition against the Muller Property village proposals.
Mr Cullen said: "Planning officers visited the site and saw that the trees had been removed.
"The planning board was appalled that this act of vandalism could take place. It's just putting two fingers up to the authority, the reasons stated for refusal have simply been removed.
"I'm absolutely disgusted. It shows people don't care about our community."
Cllr Peter Groves, for Nantwich South and Stapeley, said there was "shock" among members of the planning board when told about the tree felling.
"Everyone was so taken aback, we were quite shocked, it's not the sort of things that happens here," he said.
"We would have been much happier to have dealt with both applications at once.
"I know our arboricultural officers have taken measurements of the oaks and will forward these to the Forestry Commission. They will take action if necessary."
None of the trees were subject to Tree Preservation Orders and were not in a Conservation Area.
Four trees in total were felled, three oaks together where the planned access route is planned, and one by the proposed entrance at the traffic lights on Peter Destapleigh Way, opposite Cronkinson Farm pub.
Nantwichnews has contacted the owner of the land and is awaiting a response.
Planning officers will now review the road access application pending a decision at a later date.
Colin Muller, head of Muller Property, spoke at the meeting in support of the first phase housing application for 189 homes.
But this was rejected by councillors for a number of reasons, including on grounds of impact on the landscape and loss of trees and agricultural land.
The Muller Property spokesman added: "We are very much looking at all our options after this decision."
The company could appeal against the decision to the Planning Inspectorate.