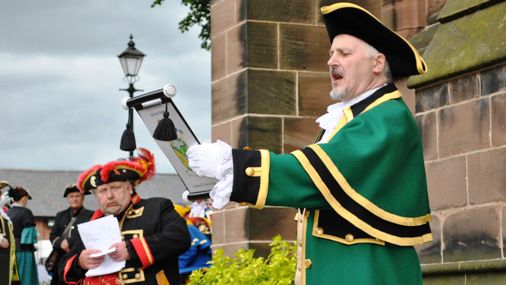 Cries of "Oyez, Oyez" will be heard across Nantwich when the town stages the second annual Town Crier Competition.
Fifteen criers from the across the UK will battle it out on Saturday July 27 to win the coveted Town Crier's Shield.
The event is the curtain raiser to the Nantwich Show and International Cheese Show, which takes place the following week and will be the basis for the competition material.
The town criers will have a range of tasks to complete during the competition, including introducing themselves and telling the audience a bit about the town that they come from.
They will be judged on volume and clarity, confidence and bearing, diction, inflection, and accuracy.
Bargain Hunt's Robert Stones will be judging the criers' diction and inflection.
There will also be prizes awarded to the best dressed crier, best crier's lady or escort, best content of subject cry, best couple (crier and escort) and best ambassador.
The awards will be handed out at a presentation ceremony at The Crewe Arms Hotel in the evening and will be attended by the Mayors of Nantwich, Crewe and Kidsgrove.
Fans of Harry Potter will be pleased to learn that one of the town criers, Martin Wood from Shrewsbury, stood in as a body double for Robbie Coltrane's Hagrid in the Harry Potter films.
John Parsons, organiser of the Nantwich Town Crier Competition, said: "Town crying is a tradition that goes back centuries and we are delighted to be celebrating it in Nantwich.
"This competition will give people a glimpse back in history to a time when town criers were the chief means of communication in a town."
For more information please visit www.cheshiremarkettowns.co.uk or www.nantwichshow.co.uk