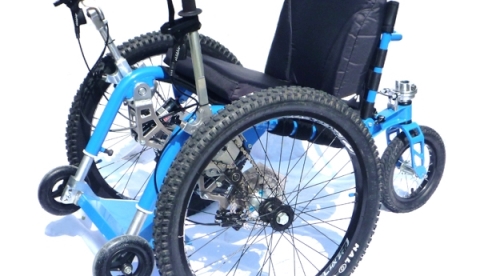 A Nantwich businessman is to receive a coveted Silver Medal for inventing an all-terrain wheelchair!
Tim Morgan is being honoured by the Royal Academy of Engineering after achieving success with his Mountain Trike idea.
The RAE's coveted Silver Medal is presented to four outstanding British engineers, including Tim Morgan who runs his company from Wybunbury Road in Walgherton.
Winners must have achieved commercial success and be recognised for advancing the cause of engineering in the UK.
They will be presented with their medals at the academy's annual awards dinner at London's Battersea Power Station on July 17.
Entrepreneur Tim's all-terrain wheelchair allows wheelchair users to enjoy the countryside independently.
He came up with the idea during  a final project of his Masters in Innovation and Engineering Design from the University of Bath in 2007.
He spotted a need for an all-terrain wheelchair that would allow users to reach places previously inaccessible.
He secured financial backing and developed the project while working full-time as a design engineer at Bentley Motor Cars.
The product has an innovative drive as well as inventive steering, braking and chassis systems.
It has won a number of accolades, including "best new product" award at mobility shows and a rare five-star rating from Able, the UK's largest mobility magazine.
The wheelchair attracted a large following with the first deliveries in August 2011.
His company now boasts international sales accounting for nearly 40% of its overall turnover.