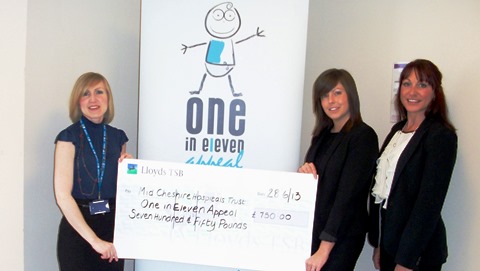 A recruitment firm has raised £750 to the One in Eleven Appeal for a new neonatal unit serving Nantwich and Crewe.
Forrest Recruitment donated the cash to Mid Cheshire Hospitals Charity – coordinators of the appeal for the unit at Leighton Hospital.
Staffs at Crewe's Forrest Recruitment Ltd, which has nine branches across Cheshire and the North West, chose One in Eleven as its Charity of the Year for 2013.
Nikki Bellamy, company area manager, said: "Our staff are all local to the area and we really wanted to support a charity that benefits the community.
"Many of us know people whose babies were cared for on the neonatal unit there, so it was a perfect choice for us to support the One in Eleven Appeal."
One in Eleven Appeal was launched in 2012 to try and raise £1.8 million needed for the neonatal unit project.
And thanks to efforts of individuals and larger donors, it has already reached its target.
Additional funds will help provide more enhancements or new equipment for the unit.
The new neonatal unit will provide more space, comfort and privacy for families going through difficult times when their baby is in hospital, as well as better storage and a more modern design and layout.
Preparatory work is planned to start this year.
MCHC fundraising manager Laura Bailey said: "This generous donation will allow us to add even more improvements to our new neonatal unit and we are very grateful to Forrest for choosing to support the One in Eleven Appeal."