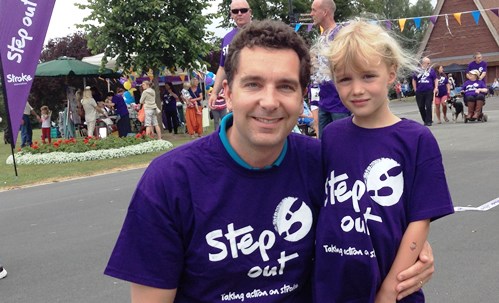 Crewe & Nantwich MP Edward Timpson teamed up with his young daughter Lydia to complete the "Step Out For Stroke" walk.
The event, which was held in Crewe's Queen's Park, was organised by the Stroke Association.
The sponsored family walk on Sunday (July 21) offered a chance to raise essential funds for the Stroke Association and increase awareness of stroke.
The day included family activities such as face-painting, raffles, craft stalls, guess the name of the teddy and live music.
Money raised will help prevent strokes and reduce their effect through campaigning, education and research, and also help support 1.1 million people in the UK adjusting to a life after stroke.
Mr Timpson made a speech at the event about the government's approach to stroke care in England.
He said: "With someone suffering a stroke every five minutes in England, it's important we continue to improve efforts to prevent strokes, take action more quickly when they do and make sure the best possible support is in place afterwards.
"This Step Out for Stroke awareness walk is a great way of showing that, with a positive attitude and excellent supply from carers, families and volunteers, stroke suffered can still go on to achieve amazing and inspiring things.
"Congratulations to Rachael Glover and all the Stroke Association team based at Leighton Hospital on pulling together such an impressive occasion."
The Act FAST campaign, which is supported by the Stroke Association, aims to raise awareness of symptoms of stroke so patients can get to hospital faster and receive quicker treatment, helping to save lives.