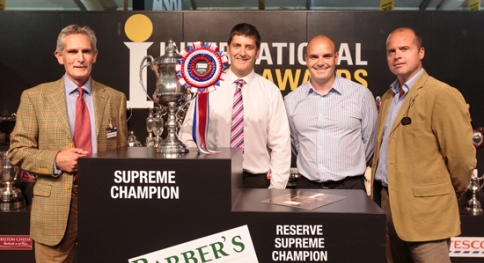 Joseph Heler and retail giant M&S are celebrating after scooping golds at Nantwich Show's International Cheese Awards.
Hatherton-based Heler won several awards in the world's largest cheese show of its kind, with more than 4,200 entries.
Its gold gongs included in the Farmhouse/Traditional Caerphilly Cheese category, and in the Mature Cheddar Cheese (any weight/size) class.
They also won in Cheshire Cheese and Red Leicester categories.
M&S scooped 10 golds in all, including Champion Retailer prize, Bemis Trophy for Supreme Retailer, for the second year running.
Among its cheeses showcased today (July 31) were Ravens Oak Goats Cheese, sourced locally at its Butler's Cheeses Ravens Oak Dairy in Burland, Nantwich.
Other gold gongs were for Vintage Cheddar, Extra Mature Cheddar, Soft Cheese with unpasteurised milk and Continental Specialty Cheese (Soft Fresh).
All the major UK supermarket retailers challenged for awards, including Asda, Sainsbury's, Tesco, Morrisons and Co-op.
But it was a Claxstone Smooth Blue produced by Long Clawson Dairy which was  crowned Supreme Champion at the awards, winning the accolade ahead of 4,285 other competitors.
A panel of experts judged an Extra Creamy Gorgonzola produced by Arrigoni as the Nantwich Reserve Supreme Champion (pictured).
Belton Cheese won the National Westminster trophy for the highest number of gold awards.
This year's competition saw 283 categories in all, with competitors from 27 countries. Other winners at the event, in its 116th year can be seen by downloading the results below.
Richard Paul, cheese show chairman, said: "We had 4,286 entries in all, which is a record, and the standard across the board was extremely high – our panel of 190 judges really did have their work cut out to make their selections.
"They selected the Claxstone Smooth Blue – an extremely deserving Supreme Champion. It, and all the category winners and runners up, can now feature a gold, silver or bronze International Cheese Awards label on pack.
"We will now be continuing to working hard to educate consumers on what that logo means – that if they spot it they can be safe in the knowledge that the product has been judged, by experts, as outstanding."
See here for a full list of winners from today's cheese awards.
(Pic courtesy of Nantwich Show)