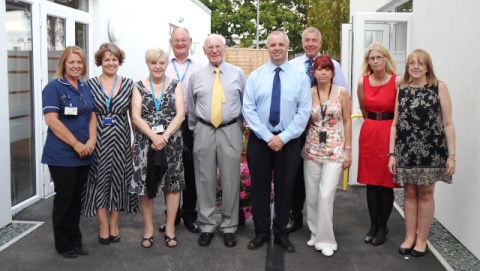 Fundraisers who helped pay for a new neonatal unit for Nantwich and Crewe families have seen plans for the project.
Donors to the Mid Cheshire Hospitals Charity's One in Eleven Appeal were invited to Leighton Hospital to view plans for the new unit.
They also toured the space where renovation works are about to get underway.
Representatives from Asda Crewe, Wincanton Logistics Middlewich, Ray of Hope, and the Frank Hockenhull Trust viewed existing neonatal unit and the recently refurbished labour ward.
When complete, the new neonatal unit will be about double the size and located next to the labour ward.
During the works, MCHFT is also refurbishing the maternity ward above.
Tracy Bullock, chief executive of MCHFT, said: "The support for this project has been unbelievable.
"We would not be where we are now without the generosity of our supporters and every single person that has donated or raised money.
"It has been very special to welcome back some of these supporters to see how our plans are progressing and we hope they will return to see our brand new unit next spring."
The new unit will care for 15 babies and provide more room allowing families more privacy and dignity.
There will be more space for storing equipment and parent overnight accommodation.
The One in Eleven Appeal raised £1.8 million thanks to support of local residents, groups and businesses and a huge donation of £1.5 million from the Frank Hockenhull Trust.
Laura Bailey, fundraising manager for Mid Cheshire Hospitals Charity, said: "This is a very exciting time for us as work gets underway.
"We can't wait to unveil our new unit to our local communities next year – without them this dream would never have come to life.
"Our neonatal team is also looking forward to being able to carry out their life-saving work in much improved surroundings."
The local community has continued to support the appeal after it reached its target, helping fund more enhancements and equipment for the new unit.
Wincanton Logistics funded a hydraulic cot unit which is height adjustable, and Asda Crewe helped to buy neopuff respiratory units.
Asda Crewe general manager Chris Davies' daughter Ella-Rae spent time on a neonatal unit in North Wales.
He said: "The plans we have seen have been made possible by the people of Cheshire and by our customers and staff at Asda and I am very proud to be a part of it.
"Having used a facility like this before I know how hard staff work and how much Leighton Hospital needs this new unit.
"It will be much more of a home from home for parents, which is so important in such stressful times."