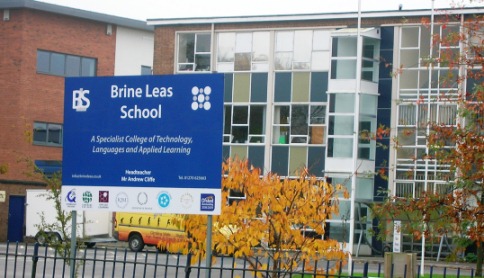 Students from Brine Leas School in Nantwich are celebrating A level success today (August 15).
In only the second year of A level teaching at the Audlem Road school, results have improved from 2012 with many students exceeding expectations.
The headlines include 55% of students achieving A* to B, and 79% gaining A* to C.
The average total point score per student rose to 791.
Andrew Cliffe, Brine Leas headteacher, said: "I would like to congratulate all students on their examination results.
"There is huge pressure on young people today to succeed.
"By working in partnership with teachers and families our students have done exceptionally well BL6 students are going on to some fantastic universitiesas well as taking up job offers or apprenticeships."
Several students achieved stunning results to land places at top universities across the UK.
Among those with exceptional results include:
Luka Dragovic (Imperial College London – Maths)
A2 – Chemistry A*, Physics A*; Maths A*; Further Maths A*
AS – Biology A
Kristian Ormandy (Imperial College London – Physics)
A2 – Physics A*; Maths A*; Further Maths A*; History A
Michael Wilkinson (Imperial College London – Medicine)
A2 – Chemistry A*; Biology A; Philosophy A; Applied Maths A
AS – Psychology A; Critical Thinking B
Jessica Lowe (The University of Warwick – English Literature and Creative Writing)
A2 – English Literature A*; Psychology A*; Product Design A; Art B
AS – EPQ A*; Biology B
Rebecca James (University of Bristol – Virology and Immunology)
A2 – Biology A*; Chemistry A; French A
AS – EPQ A*; Applied Maths B
Josie Workmann (King's College London – International Relations)
A2 – Government and Politics A; Law A; Philosophy A;
AS – English Language A; EPQ A; Critical Thinking C
Caitlin Young (Cardiff University – Medicine)
A2 – Biology A; Chemistry A; History A
AS – EPQ A*; Applied Maths B
Poppy Garrett (The University of York – English)
A2 – English Literature A*; English Language A; French B
AS – EPQ A*; German B
Hayley Clarke (The University of Birmingham – English Language)
A2 – English Language A; English Literature A; History A;
AS- EPQ A; French D
Jasmine Radford (The University of Bristol – Law)
A2 – Maths A; Biology A; English Literature A
AS – EPQ A*
Andrew Martin (University of Leicester – Medicine)
A2 – Biology A; Chemistry A; Physics A; Applied Maths A
David Lukic (University College London – Law)
A2 – Maths A*; Further Maths A*; Business Studies A; ICT B
AS – EPQ A*
Emily Hollingshead (The University of Edinburgh – Mathematics)
A2 – Physics A; Maths A; Further Maths A
AS – French D