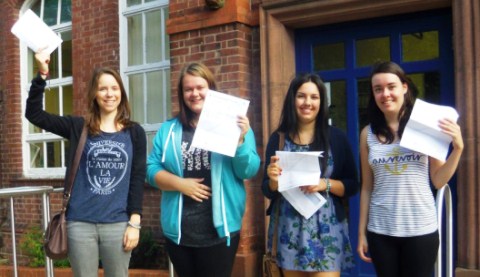 Students at Malbank School and Sixth Form College in Nantwich have also been celebrating their A level successes.
And some teenagers have clinched amazing univeristy and apprenticeship places after gaining the grades they need.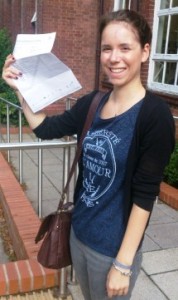 That includes Lucy Atkinson (pictured, right) who achievde 4 A grades and is taking up a fully supported apprenticeship with Virgin.
Alice Leetham achieved 1 A* and 3 grade As to secure her place at Exeter University to study Maths.
Friends Scarlett Tutt and Rosanagh Bailey are delighted.
Scarlett achieved 3 x A*s, 1 B and 1 C to secure a place to do Business and Commerce at Liverpool University.
Meanwhile, Rosanagh achieved 2 x A*s and 2 x Bs to do Sociology in Leeds.
Other successful students (pictured, above, with Lucy) include Victoria Green, Royah Darabi and Emma Gibb.
Victoria is going to do Psychology at Chester University, Royah is going to Exeter University to do English Literature, and Emma currently considering her options.
And Kirsty Stafford achieved 1  A*, 1  A, 1  B and 1 C grade to secure an apprenticeship at High Leigh Golf Club.
Jeannette Walker, Malbank headteacher, said:  "This year we have been working really hard to diversify the range of options for our students.
"And while we are thrilled we have lots of students who have achieved fabulous results and who are going off to prestigious universities, many of our students who have also achieved fantastic grades have been offered apprenticeships with local, national and international companies.
"We are very proud that these companies have recognised the skills and potential of our students."